Are you looking for a cheap and easy way to trade Bitcoin? Here are some of the best places you should take a look.
1 Crypto Exchange: Coinbase - Buy and Hodl
Coinbase is one of the most popular Bitcoin exchanges in the world. Many people buy and hold cryptocurrencies in this way because they believe in the long-term prosperity of Bitcoin, any fluctuations in the short-term are just short-lived phenomena in the long journey.
Pros:
Cons:

High-profit potentials

No need for frequent transactions

Profit only when the market rises

Requires a large initial capital

It is not easy to hold cryptocurrency




2 Trading Broker: Mitrade - Trade Bitcoin in price moves
Mitrade, as a forex broker, offers a different way of trading cryptocurrencies——crypto contract for difference ( CFD). You will have a smarter way to invest in the crypto market, just go long or go short the crypto like trading forex, no need to store crypto coins in a wallet. What is CFD
CFD is a financial derivative that allows you to trade on the crypto price fluctuations without actually owning any coins. The potential profit is the difference between the buying price and the selling price.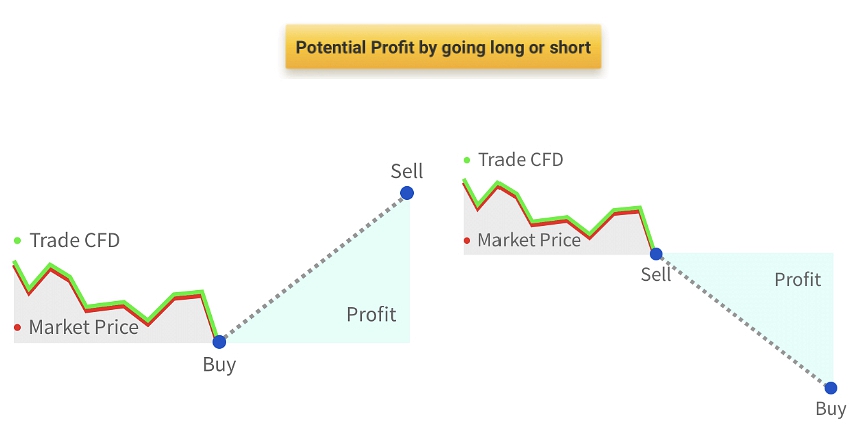 CFD is margin trading, providing you with greater exposure to markets, so you need to be careful of leverage risks. Leverage may cause you to lose all of your money. For more details, please visit Mitrade platform.
Pros:
Cons:

Low capitals to start

Go long or go short with the market rise or fall

No need to own and hold cryptocurrency

Leverage rise the risks
Mitrade provides you with over 300 global hottest markets, you can trade with 0 commission and tight spreads.
- Popular cryptos: Bitcoin, Ethereum, Ripple, Doge, Cardona, SOL, etc.
- Popular Forex: EUR/USD, GBP/USD, USD/CAD, AUD/USD, USD/JPY, and others.
- Popular Indices: EU50/ FR40/ NAS100/ AUS200/ US30/ UK100/ HK50 and others.
- Popular Commodities: XAUUSD, XAGUSD, WTI, Brent, GAS, and others.
- Popular Shares: AAPL, GOOG, AMZN, TSLA, FB, NFLX, NIO, ASX.AU, and more.
Go to trading platform and check all markets>
*76% of retail CFD accounts lose money.